Giving out advice feels great – we have a sense of responsibility, and it gets our empathy juices flowing, as we try our best to connect with the person and help them out with whatever they need. Receiving it, however, doesn't feel that good, especially when we're talking about unsolicited advice.
Worry not, because this list is full of guidance and recommendations that no one asked for, but they're not really the serious type. In fact, they're not serious at all, and we hope no one will try to apply them to their lives, even if some are kind of appealing. For example, when we heard that the key to preventing a cake from drying out is to eat it all in one sitting, we were very tempted to follow suit. As you scroll down the pages, just remember – although funny, the tips and hacks listed here serve no other purpose than to make people laugh.
Caring for your pearly whites
Dentists recommend brushing your teeth after each meal, but frankly, who has the time to do so? Luckily, this creative mind came up with a solution to make sure we can take care of our pearly whites, and not worry about wasting our precious time.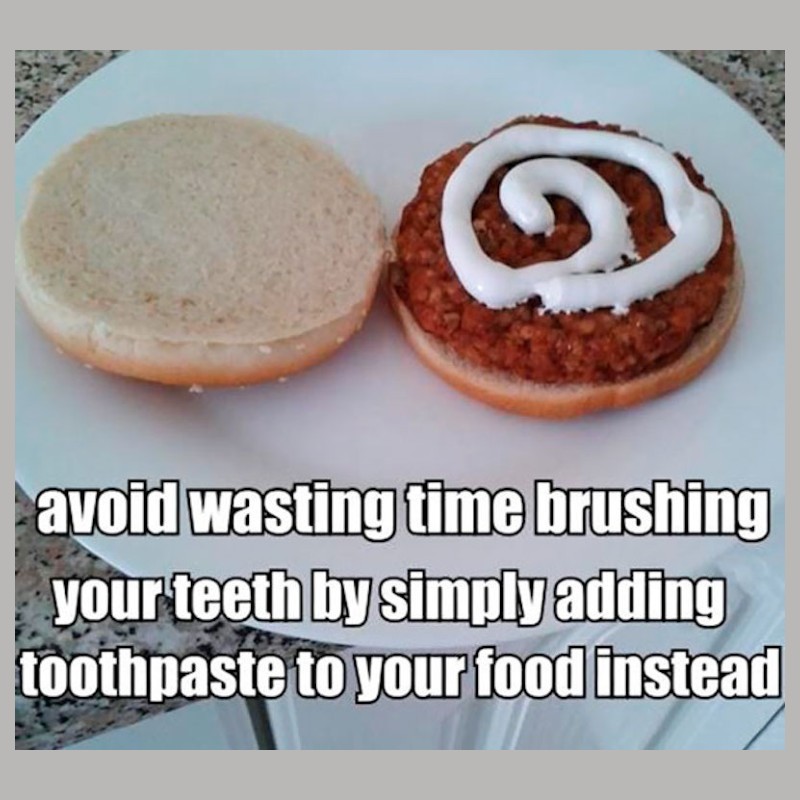 All you have to do is add toothpaste to your food – this way, your teeth get clean as you eat your breakfast, lunch, and dinner. Sure, your meal will be completely ruined, but that's a whole other problem.
Free meals for life
Love eating out, hate paying the bill? We've all been there. But worry not, because once you see this brilliant tip on how to get free meals for life, you'll be like, "how have I never thought about this before?"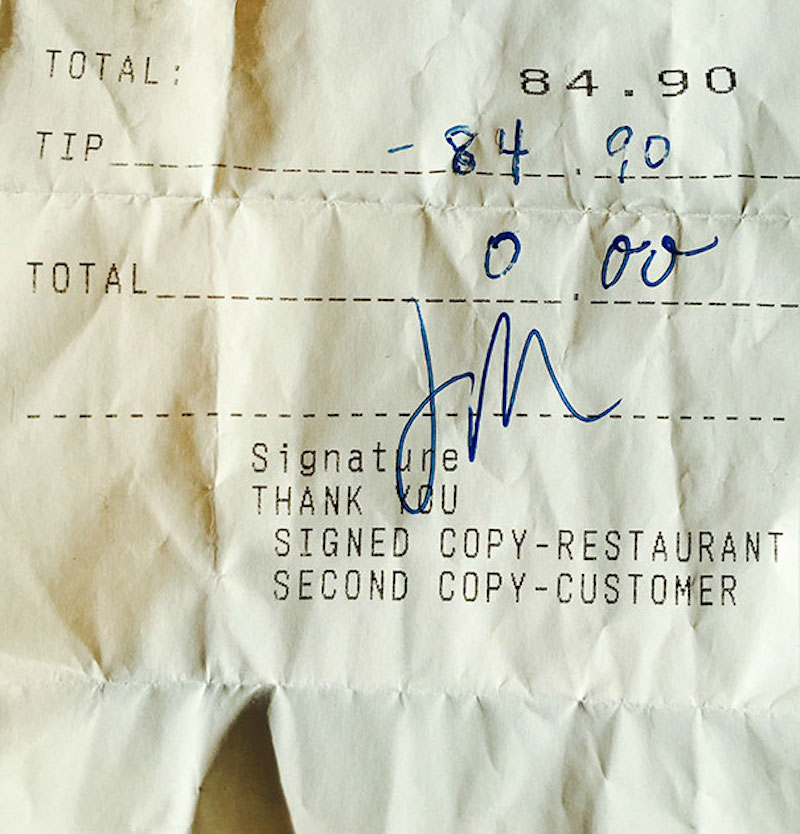 This pro life tip is brought to you by the power of math. Go ahead and dine at your favorite restaurant. Once the bill arrives at the table, simply subtract the total from the waiter's tip. It's like magic! Who wants to go to Applebee's tonight?
No hanger? No problem
This one is especially useful for people who are moving into their first apartment. There are so many big things to remember when you're settling to a new place – no one will judge you if you happen to forget about bringing hangers for your clothes.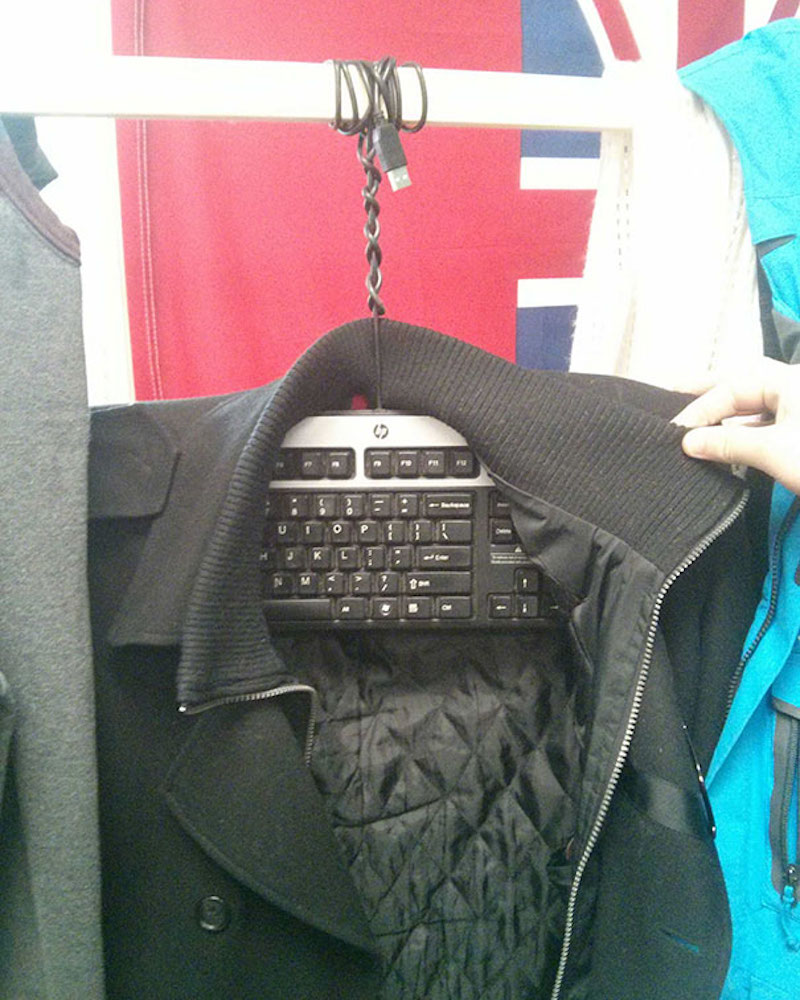 If you do have a jacket that absolutely shouldn't get wrinkles, and you can't go out to buy a few hangers, you can use your keyboard, and it does the trick just fine. Life. Hacked.
Putting frozen broccoli to use
Along with taking out the trash, filling the ice tray is one of the most despised house chores there are. For something that requires so little ingredients – it's just water -, ice can be deceivingly annoying to make without getting half the kitchen wet.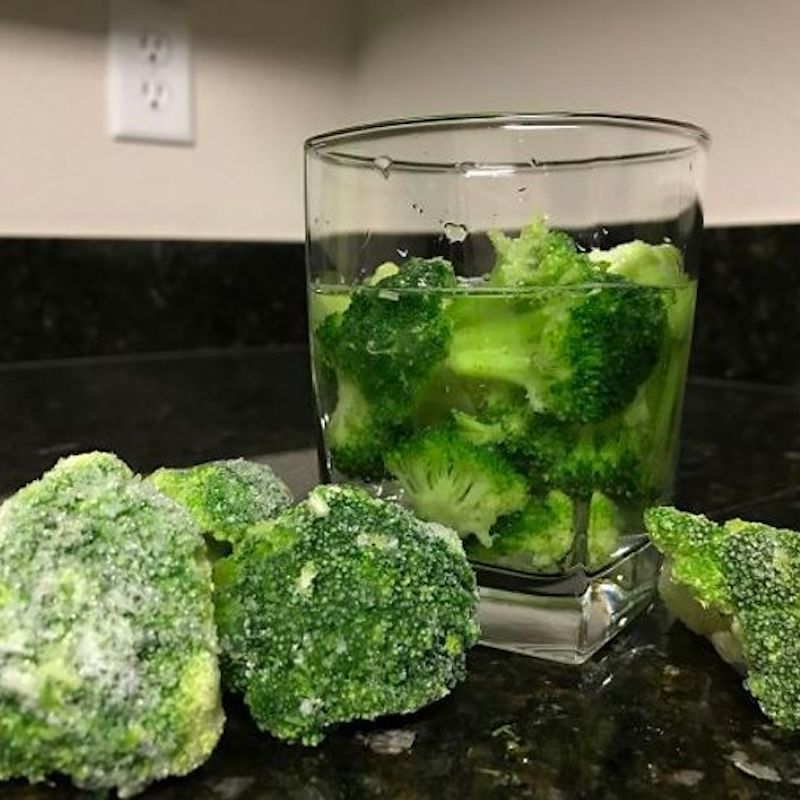 This visionary person has got it all figured out. Why bother making ice cubes when you can cool your beverages with frozen veggies instead? Put that frozen broccoli to use – it's not like you were going to eat it, anyway.
Distraction technique
This person is so proud of their advice, they even had it printed into a card, to use whenever they need a little reminder of how genius they are. The paper looks a bit torn, too, meaning they probably use it a lot.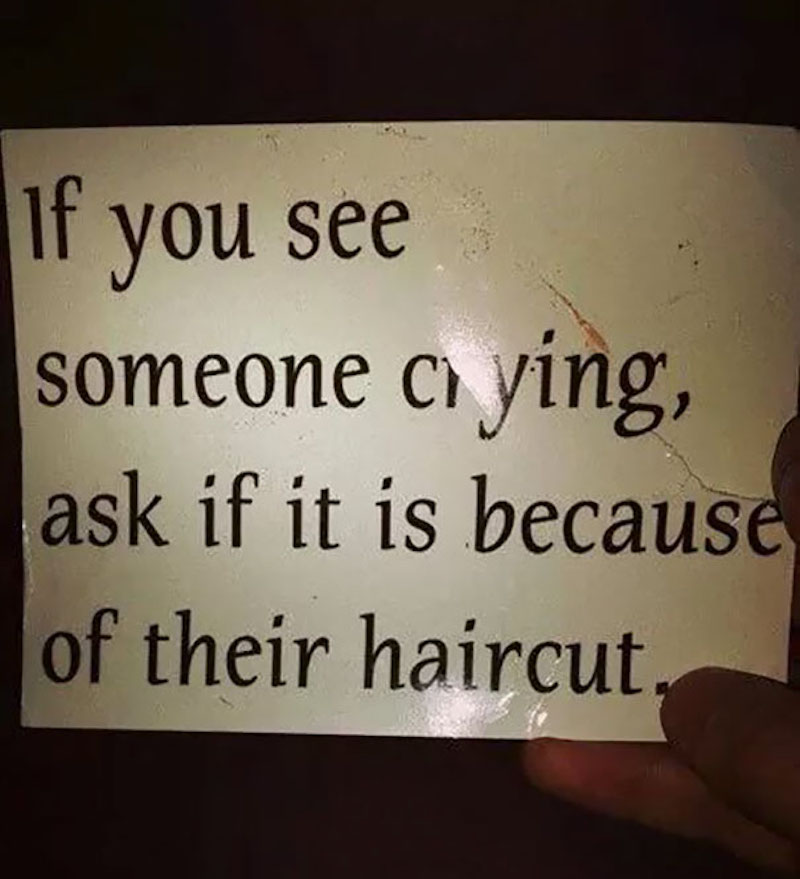 No one likes to see their friends crying, but it can be difficult to know how to comfort them, or to get them to open up. This advice right here is all about the distraction technique. If you ask a person if they're crying because of their haircut, they will definitely stop thinking about their original problem.
No more tears
Onions are like, "I will not go down without a fight. You want to slice me? I'll bring you to your knees first." Yes, it can be painful to chop an onion, and those bulbous little monsters always make us cry. Well, not anymore.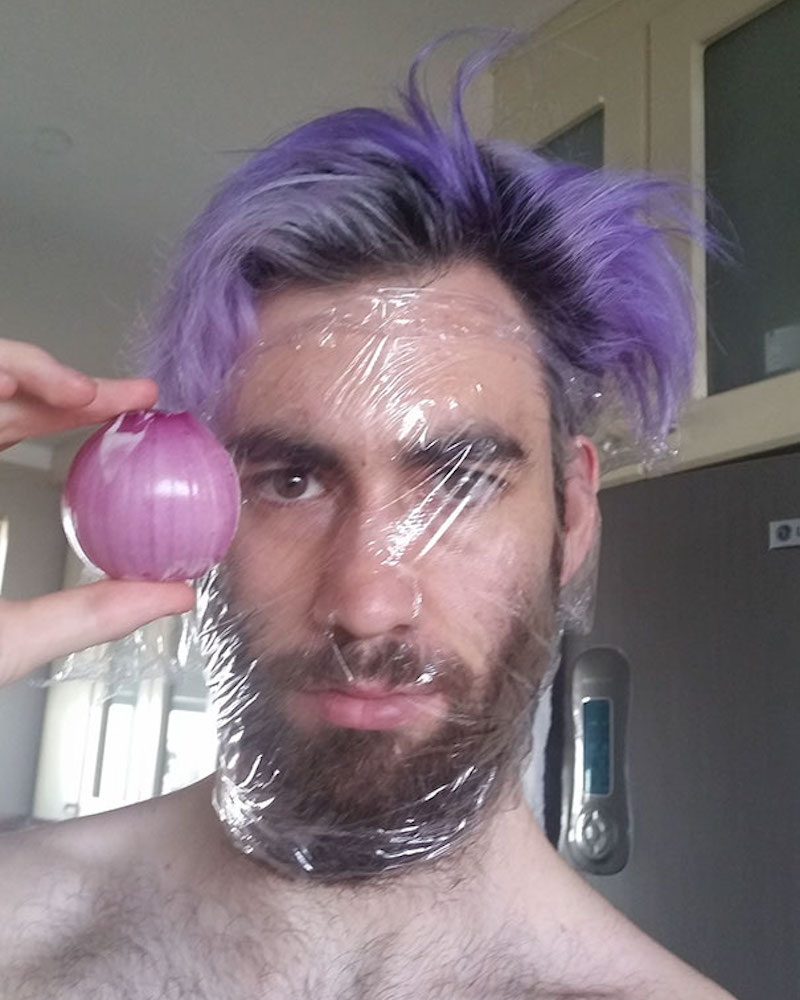 This creative mind is showing onions who's boss with his secret weapon in the kitchen – Saran wrap. Look how confident he is. It's almost like he's ready to go to battle. He kinda is, actually. And this time, there will be no tears.
Changing the menu
Have you ever started making dinner, then somewhere along the way you decided what you're preparing is not what you want to eat at all? Before the internet, you had no other option than eating the unsavory meal you did not want, but the internet teaches us something new everyday.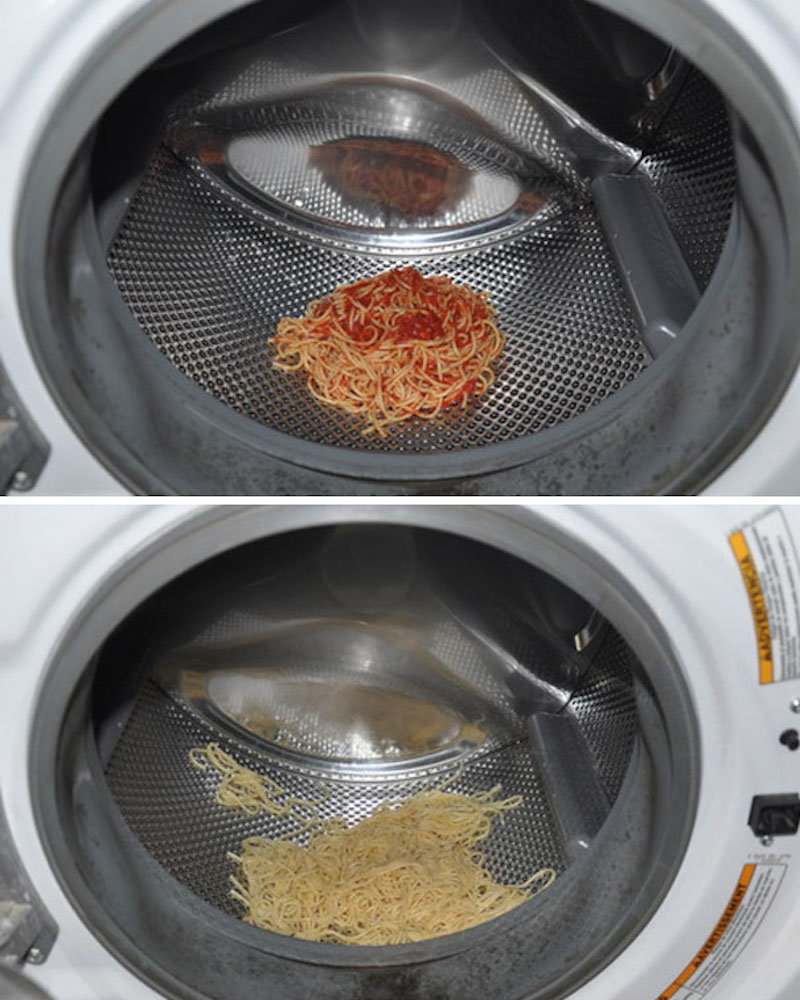 This person shows that if you made spaghetti bolognese, but then realize you actually wanted carbonara, you can start from scratch by giving the pasta a quick rinse in your washing machine.
I want to hold your hand
With over 12 million copies sold, the Beatles' "I Want to Hold Your Hand" was their best-selling single worldwide, which makes us believe that a whole lot of people identify with this need for holding someone's hand.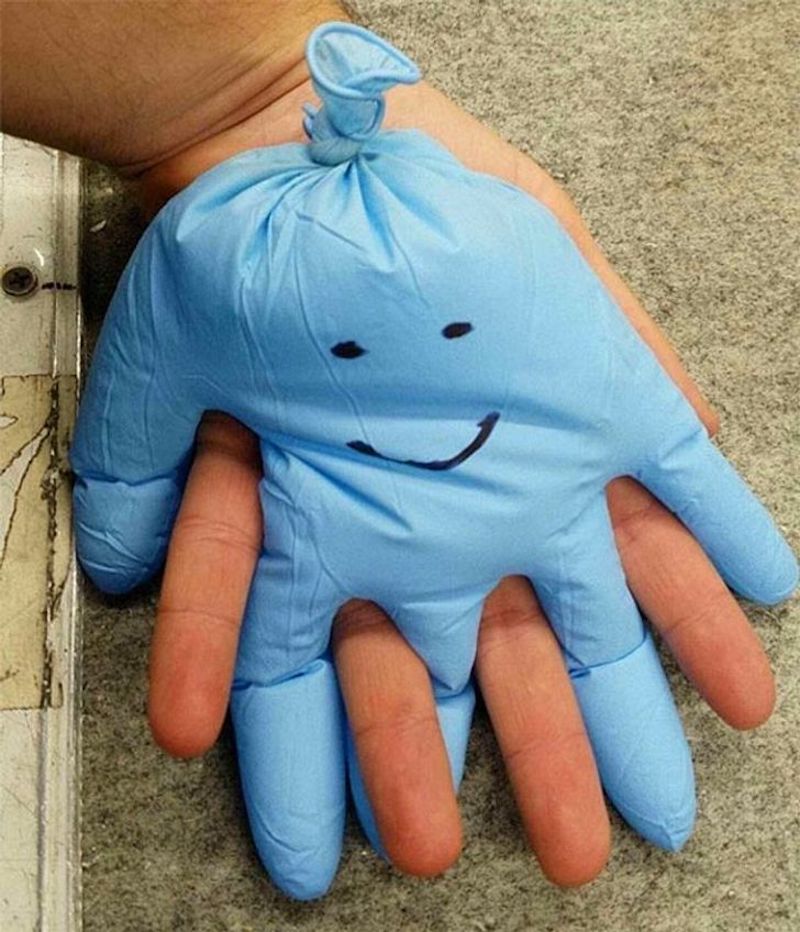 If you don't have a boyfriend or a girlfriend in your life, however, you can still have the feeling of holding a hand that's not your own – just fill a glove with some water, and you, too, can say "yes, I've been entwining some fingers." Pro tip – if you use warm water, it will feel more realistic.
Concealing your wealth
Living in the city has its perks, but it also means you have to deal with problems like urban violence. You can't be too careful when protecting your assets, which is why this clever little minx is giving this particular advice.
You don't want to attract robbers by showing everyone you just got a huge flat screen TV, so when you do buy one, you should throw the box on the neighbor's trash (and hope they don't do the same to you).
Cake cake cake
There are so many hacks out there for keeping cake moist – baking it with applesauce, spraying it with sugar-water, covering every unfrosted surface with a slice of bread. Those are fine, but they don't really tackle the root of the problem.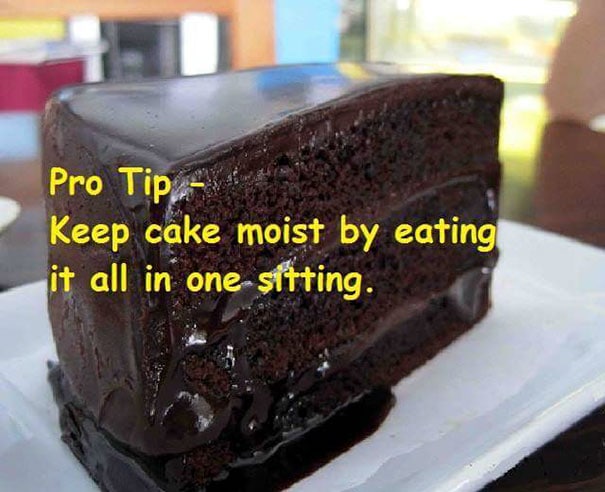 This pro tip, on the other hand, goes straight to the point. You don't need to worry about how to keep a cake moist if there isn't any cake, so go ahead and eat everything in one sitting.
How to avoid a parking ticket
This person knows what they're doing, and they want the rest of the world to learn their ways. They're tired of leaving their car on the street to run an errand, and then coming back to it to see a parking ticket on the windshield.
So what is their advice? Keep your wipers up at all times. This way, the officer won't possibly be able to leave a fine, and you'll be free to park wherever you want.
Storing boiled water for the week
Meal-prepping is a strong trend in recent years, as people have less and less time to cook during their work days. The idea is to make a week's worth of food during the weekend, so you don't need to worry about cooking after your long hours in the office.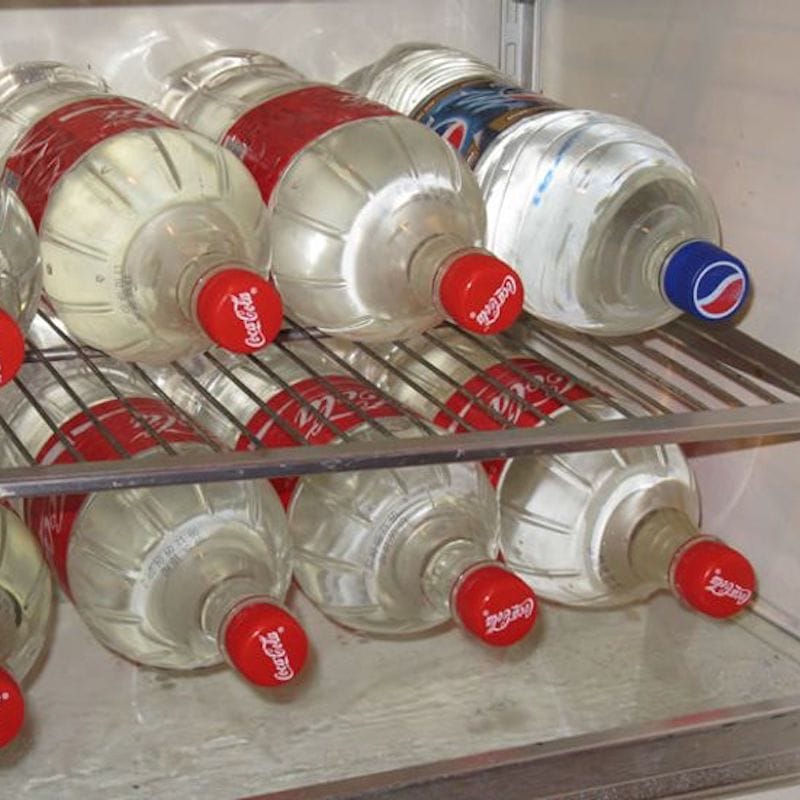 This person is asking, "why not expand the concept?" They want to let us know that you can boil a ton of water at once, and then keep it in the fridge for when you want a hot beverage, fast.
Bell peppers – nature's tea cup
Ugh, washing dishes. It's like, "why, oh whyyy?", right? You are at work in the middle of the afternoon, and you need a cup of tea, but you don't want to deal with the company's cleaning sponge later, and single-use items are so not environmentally friendly.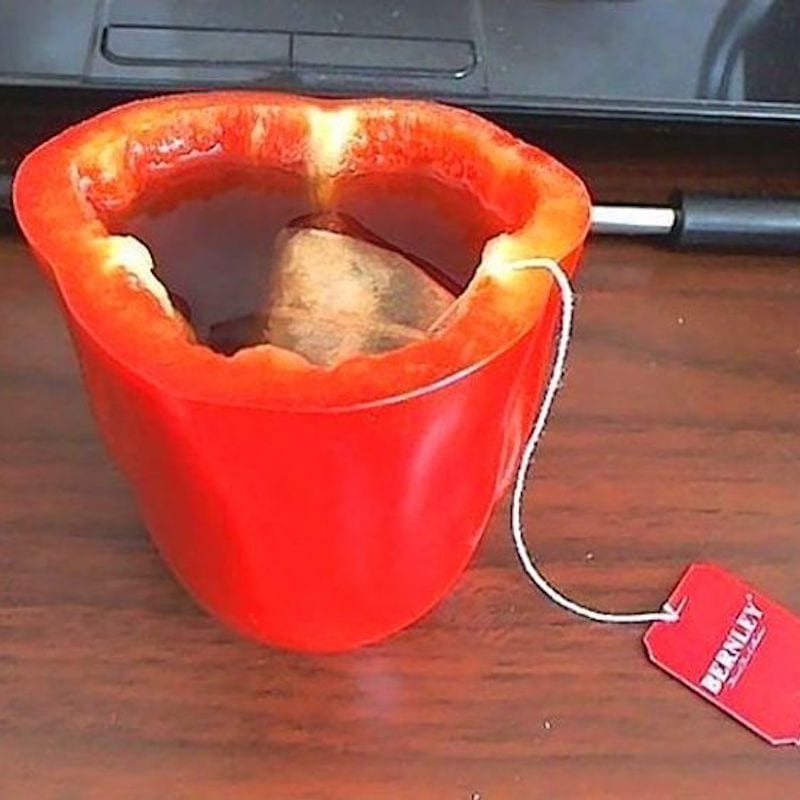 The solution here is inspired by nature herself. Use a bell pepper instead of a cup – no dishes, no waste, and you even get a healthy snack after you're done with the tea. Yum!
Saving precious space
This one is for all tennis players out there who are trying to figure out the best way to store their balls. Look no further, because this person is obviously a professional, and they are happy to show the technique they've developed through the years.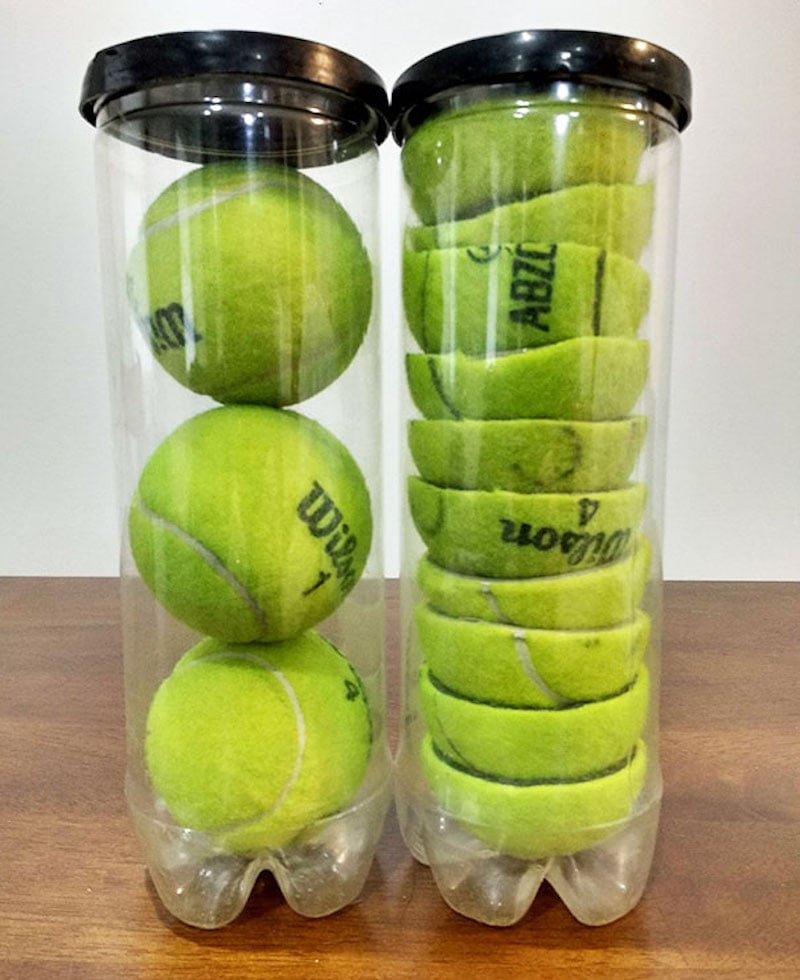 Most people just pop the tennis balls in the can as they are, but as the photo demonstrates, if you cut them in half you can fit two more balls in each can!
What the professionals don't want you to know
Painting interior walls can be extremely time-consuming if you don't know what you're doing, but the do-it-yourselfer responsible for this image wants everyone to know their latest discovery.
They claim this is the secret that the professionals don't want you to know – all you need is a bucket of paint, a funnel, and a high-powered box, and you can paint interior walls in a matter of seconds. Share this image before it gets taken down!
Learning how to use chopsticks
Unless you were trained since you were a child, using chopsticks to eat your food can be quite tricky, and even embarrassing. When you go to an Asian restaurant, you want to honor the culture of that country and eat your meal the proper way.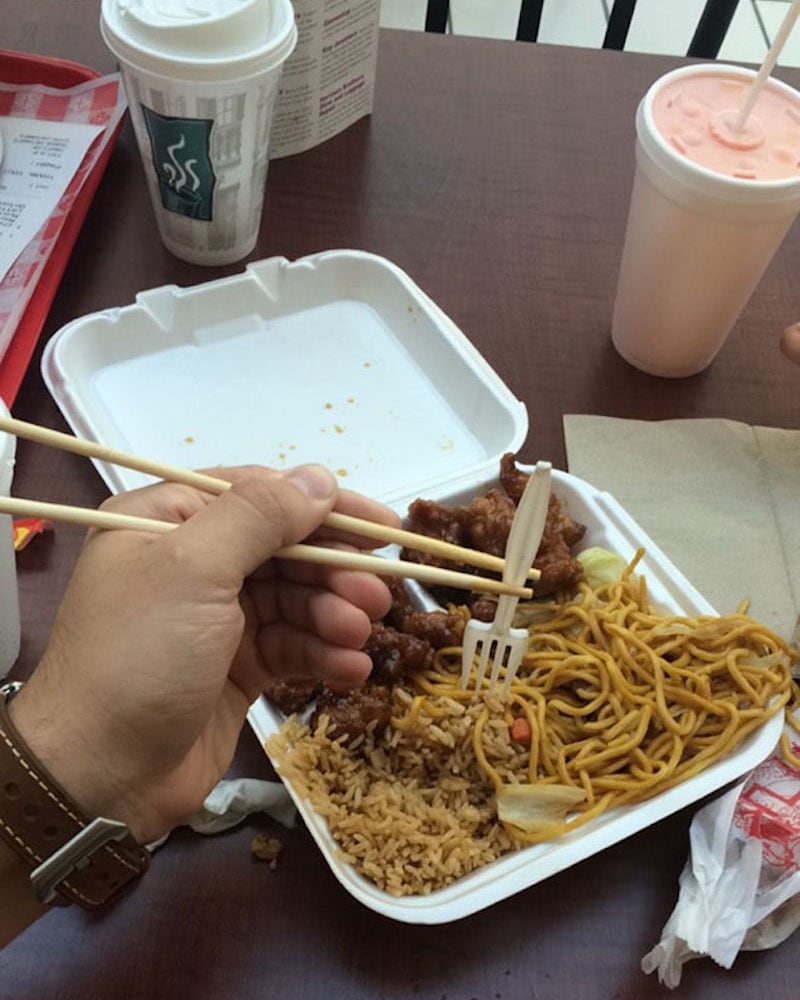 This person is letting us know that there is no shame in eating Asian food with a fork. However, you have to at least make an effort and hold the fork with the chopstick, otherwise it's just disrespectful.
Keeping those tires looking good
Road safety is no joke, and keeping a car maintenance checklist is every driver's obligation – this not only maximizes the vehicle's performance, but also avoids dangerous accidents.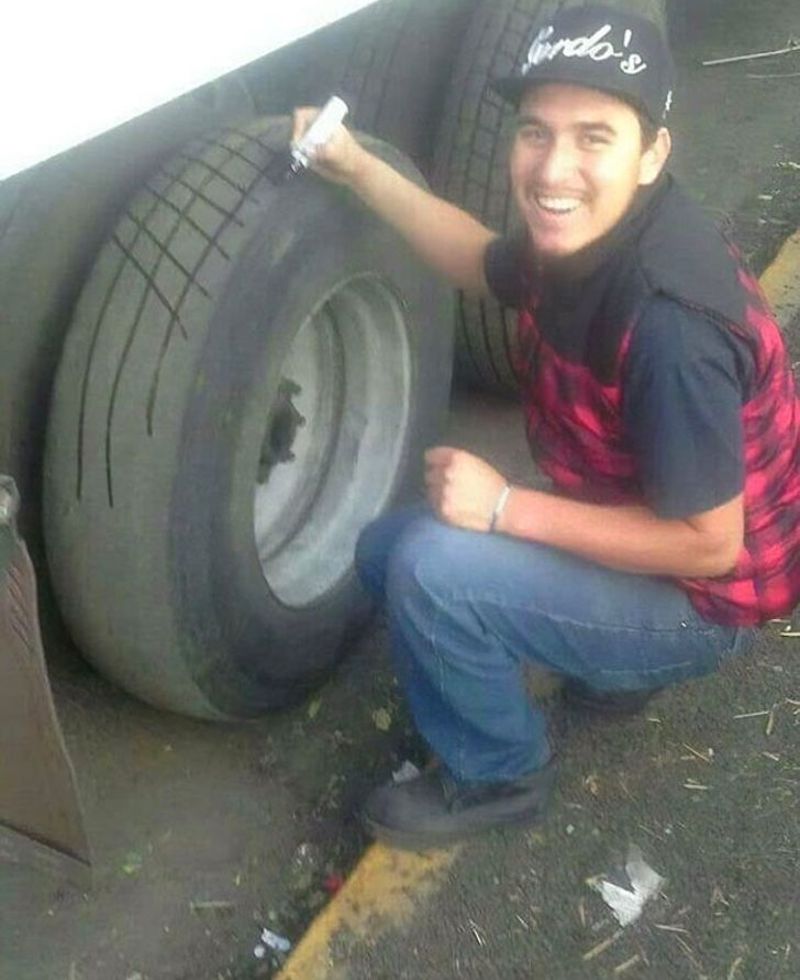 Checking the tread-wear grades on your tires is one of the most important things you can do for yourself and others. You want them to look nice and tall, so this young man is showing that, if they don't, you can draw them there with the help of a marker.
Fixing a hole in a sock
It's so annoying when we get a hole in a sock. We don't want to throw them away, because the rest of the sock is still perfectly fine, but we don't want to feel embarrassed or judged if we find ourselves in a situation where we need to remove our shoes in front of people.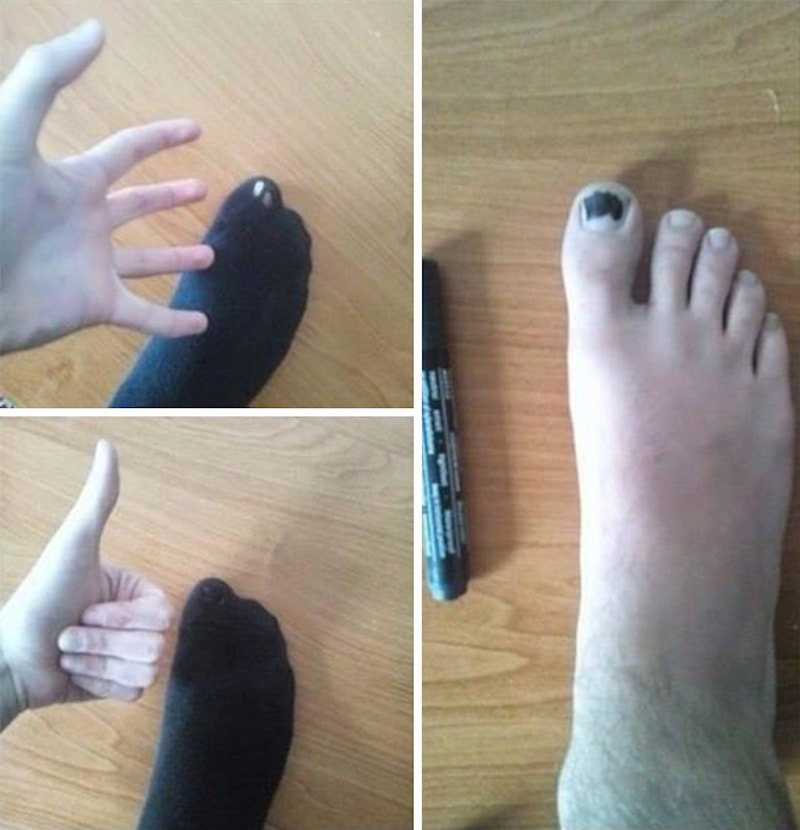 The person behind these photos is making a statement – never buy socks again! You don't even have to fix them, either – just paint the toe under the hole and go conquer the world.
Master of adaptation
In life, it's important to be flexible. We might have our whole year planned out in front of us, but the universe will laugh out loud and present us with the most unexpected, random situations (hello, 2020!).
For example, this person planned on having a bookmark to keep tabs on their reading, but the universe said, "not today, no." Luckily, they're a master of adaptation, and they want to let us know that if you can't find a bookmark, you should use ketchup instead.
Protecting your personal space
Listen, it's not like we expect an ambience of luxury when we are riding the subway, but some people have no sense of personal space. Even when there's plenty of room inside the wagon, there's always that special someone who chooses to stand. Way. Too. Close. To us.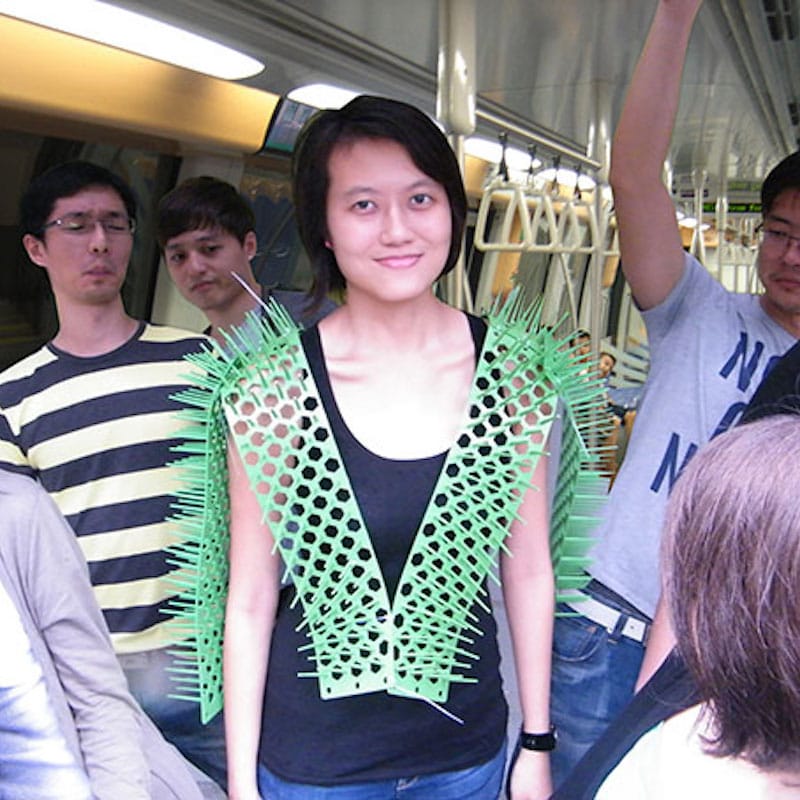 This woman's life hack? Wear a vest covered in spikes! We'd guess this is also excellent for making sure everyone is respecting the ever so important rules of social distancing.
Watch out, Annie Leibovitz
Camera phones nowadays have fantastic automatic settings that allow anyone to take good pictures. But if you want to go above and beyond, you still need to do some homework and learn the techniques of the masters of photography.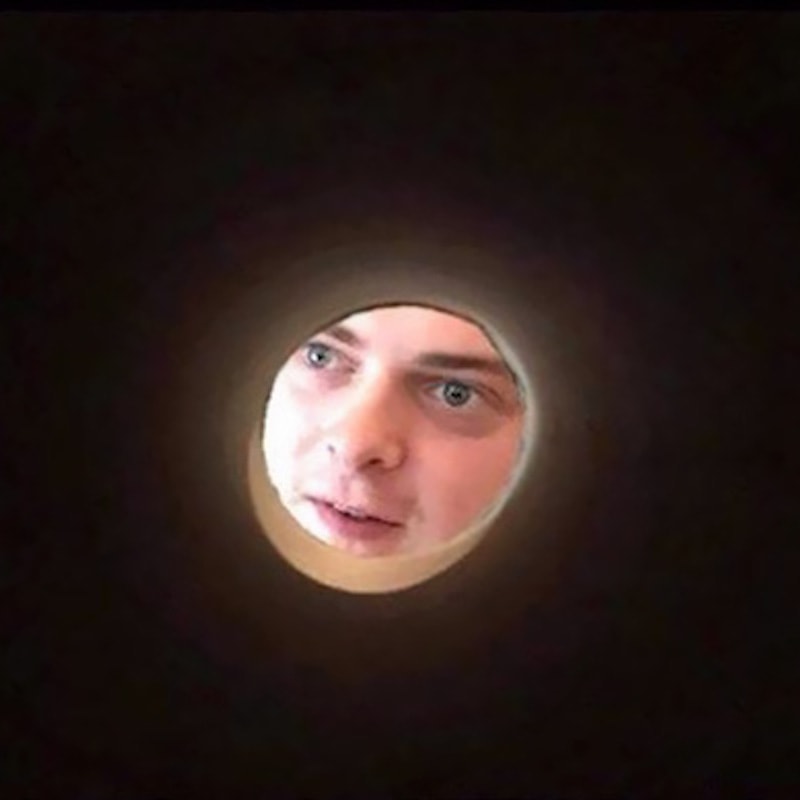 This young picture-taking virtuoso, for example, is giving Annie Leibovitz a run for her money, and he wants you to do the same. He is demonstrating the selfie-through-a-toilet-roll-tube technique, in which you can make yourself look like the moon, and he hopes you'll do him proud.
Life before AirPods
Since the release of AirPods in 2016, people are all about wireless earbuds. But not too long ago, we all had to deal with headphones and their magical ability to tangle up even after you left them sitting neatly on your desk.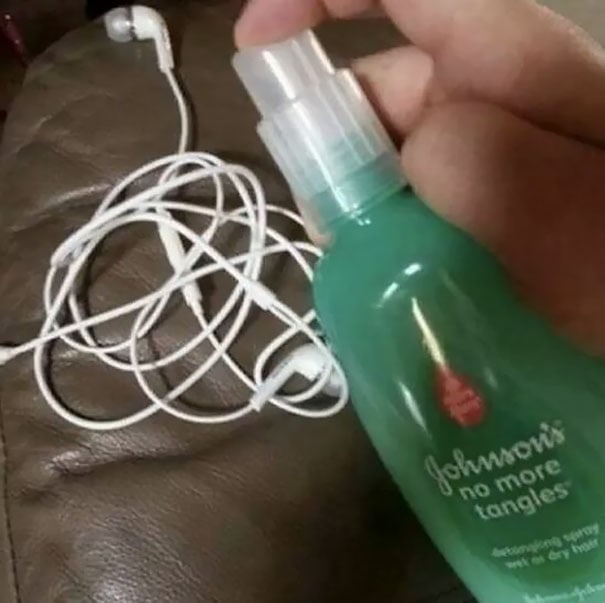 The thought of going through the wires was enough to make us give up on listening to music. Cut to this innovative thinker, who showed to the world all you need is a little detangling spray.
A refreshing manicure
For some women, getting their nails done in the salon is a weekly ritual as indispensable as it is expensive. Also, even if you're working with the best professionals around, it can be a little time consuming, if you also count the time it takes to go to and from the salon.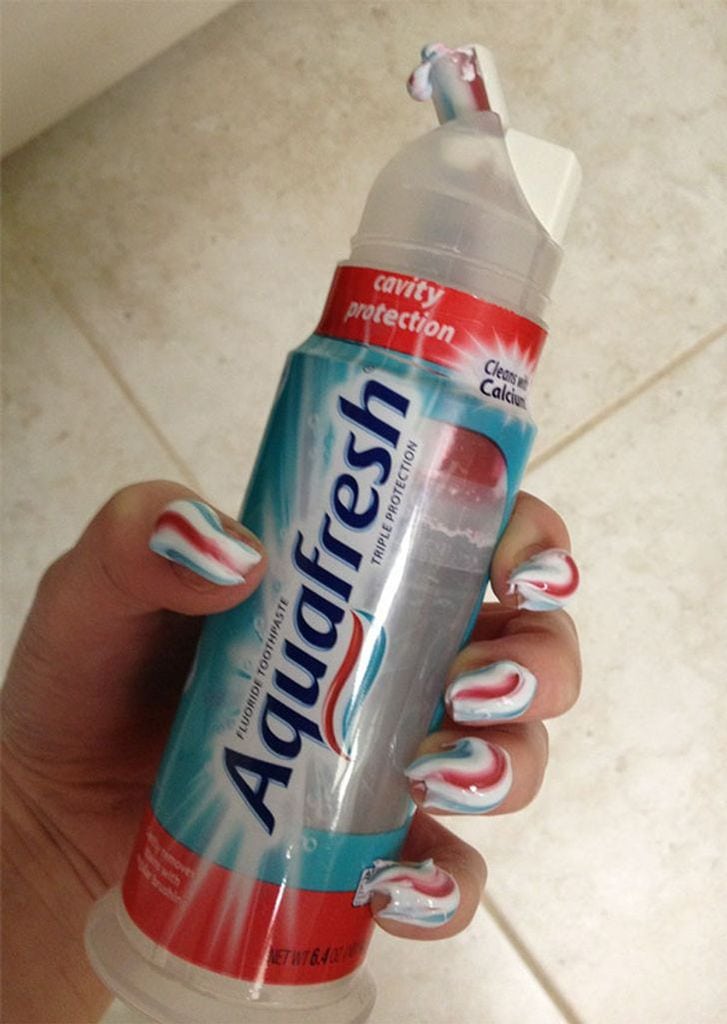 This leading lady is here to tell everyone that she has the solution – Aquafresh toothpaste! You get a cute striped pattern in each nail, and it only takes seconds.
Saving a trip to the kitchen
You went to the office kitchen to make yourself a quick snack to eat at your desk, but then you got so caught up with the job, your panini got cold. You could go heat it up again, but ain't nobody got time for that, so what do you do now?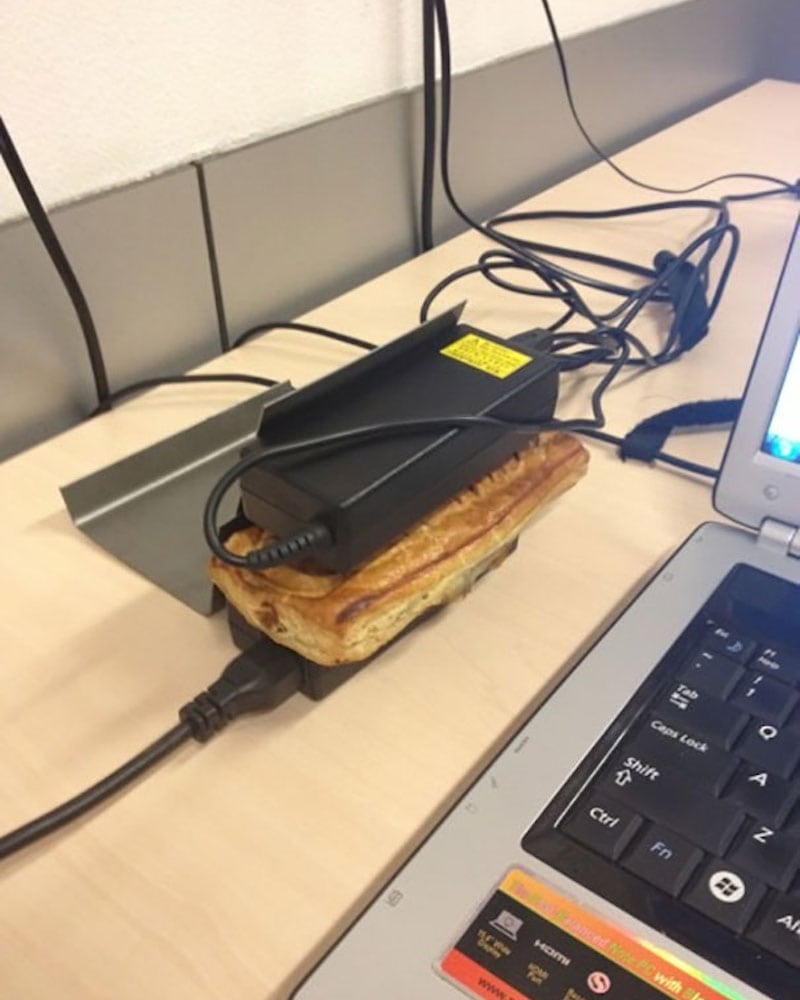 If you follow the advice from his hungry workaholic, you look around yourself, find the hottest laptop chargers available, and let those babies do their deed for you.
Achieving infinite power
The world's leading scientists are out there wasting their time, focusing on oil and gas exploration, or researching alternative, renewable energy, when this guy comes out of nowhere with the secret to infinite power.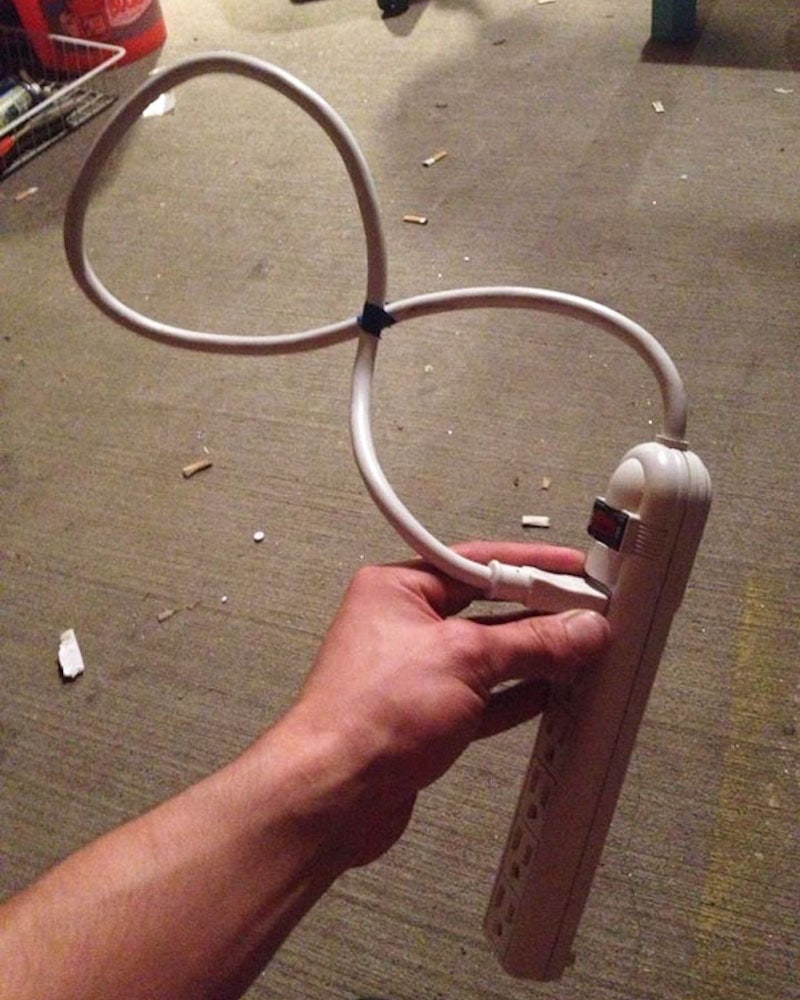 Who would have known that all we needed to do was to plug the surge protector into itself? Do keep in mind, of course, that the cord needs to be looped in the shape of the infinity symbol, otherwise the infinity doesn't kick in.
An easy way to clean the toaster
Toasters are the best thing since sliced bread (sliced bread is still number 1, after all they are the thing that goes inside the toaster). However, they are also a common cause for house fires, if you don't tend to them properly.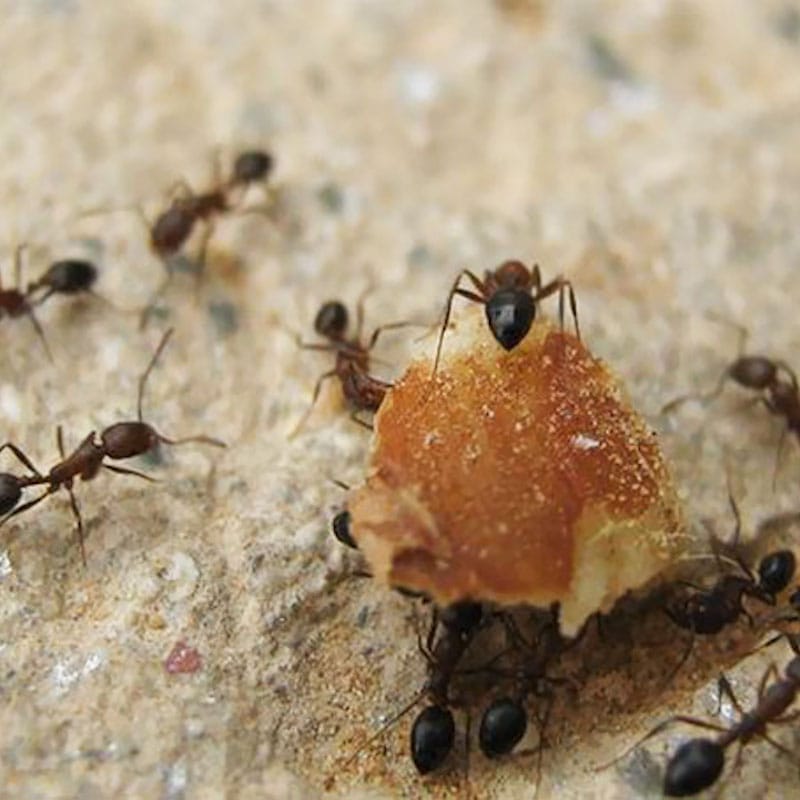 The bread crumbs that accumulate on the bottom can actually be dangerous, so this person's advice is to release ants into the toaster so they can carry the crumbs away. Bye bye, fire hazard; hello, ant infestation.
Reaching new levels of laziness
Everyone talks about how difficult it is to fold fitted sheets, but the truth is that even putting them on the mattress is a struggle. You get one corner, then when you go for the second one, the first one gets loose, and so on, and so on.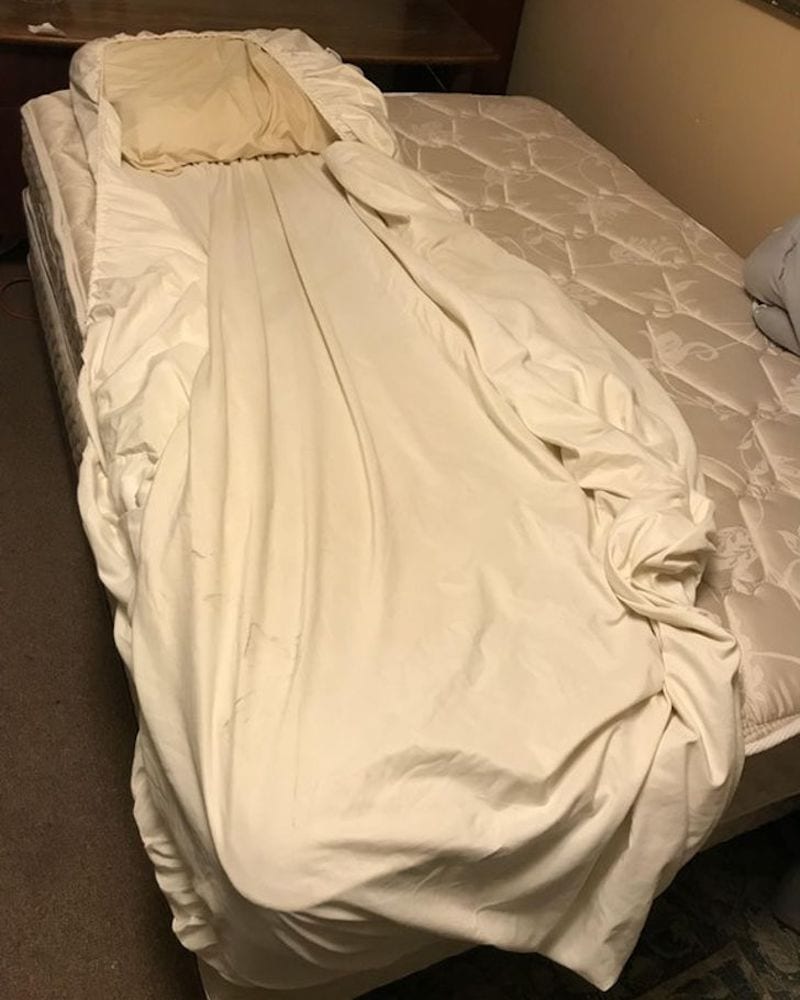 This innovator is living in the future, and they're here to show us that we only need the one corner at the bottom; the two top corners can hang around the pillow.
The modern TV dinner
Specialists will tell you the ideal way of eating a meal is by gathering around the dinner table, so we can savor both the food and the company of our family. But those specialists ain't got nothing on this avant-garde thinker.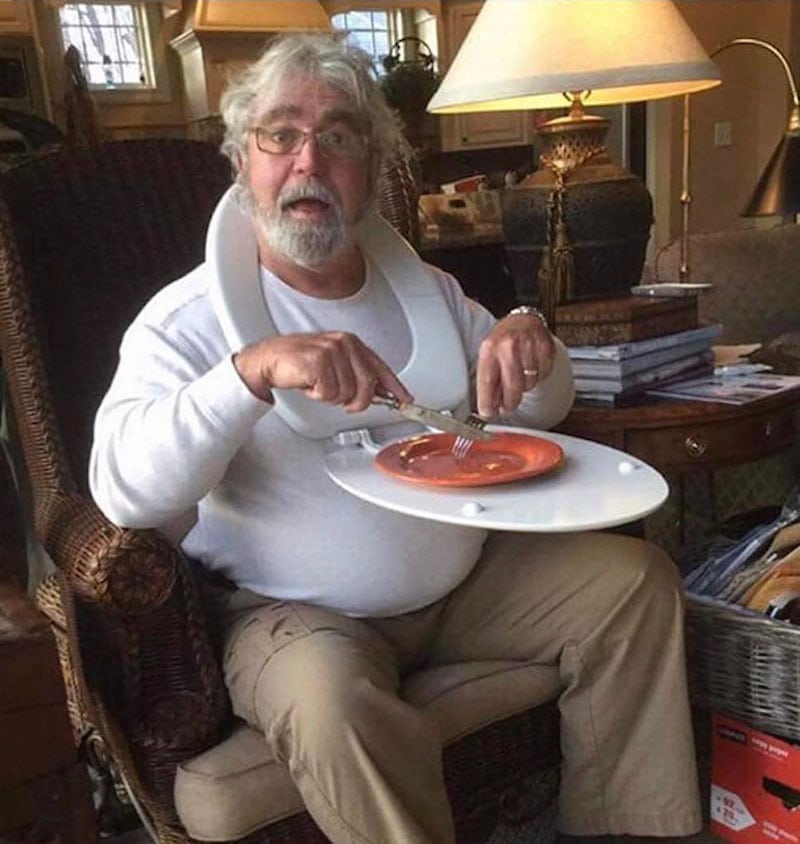 He's telling us that you can, too, eat dinner in front of the TV, as long as it is done in style – and that means wearing a toilet seat around your neck, so you don't even need to hold the plate before you.
A trendsetter, not a trendfollower
Over the last few years, minimalism has emerged as a strong fashion trend. Huge logos are seen as tacky, and people will give preference to styles in which the brand is not immediately recognizable.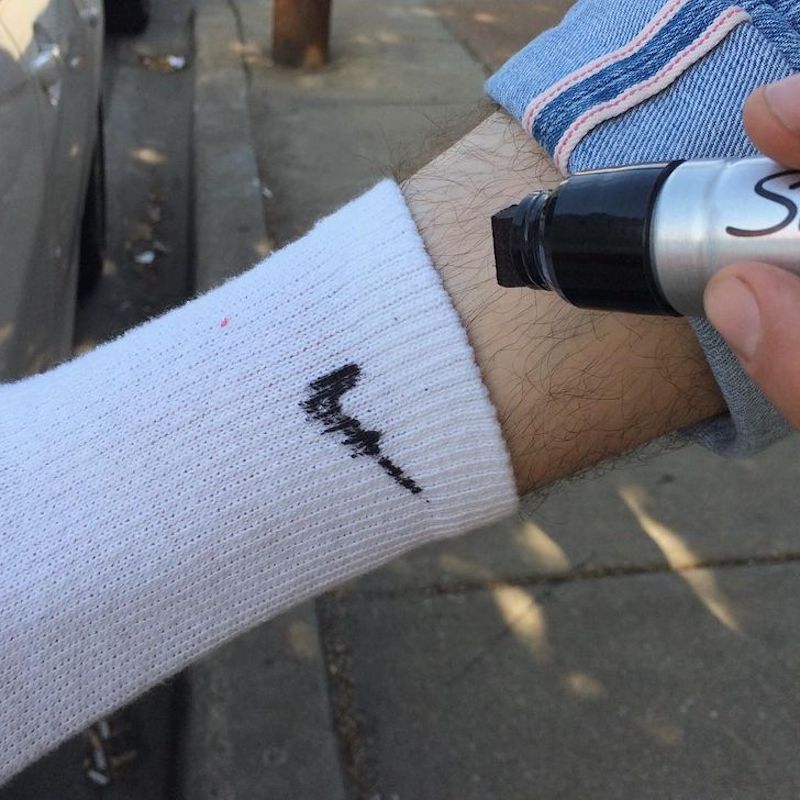 But not everyone is a fan of minimalism, and to those who love to show off the brands they're wearing, this person is saying, "go ahead, wear those logos. Heck, even add logos yourself, when you have something on that's looking too plain."
When they tell you 'no food in the library'
Finals week is overwhelmingly stressful, and students will find themselves spending entire days in the library, trying to review everything they learned during the semester. We know we did so, and we ended up skipping many meals, after all, you can't bring food into the library.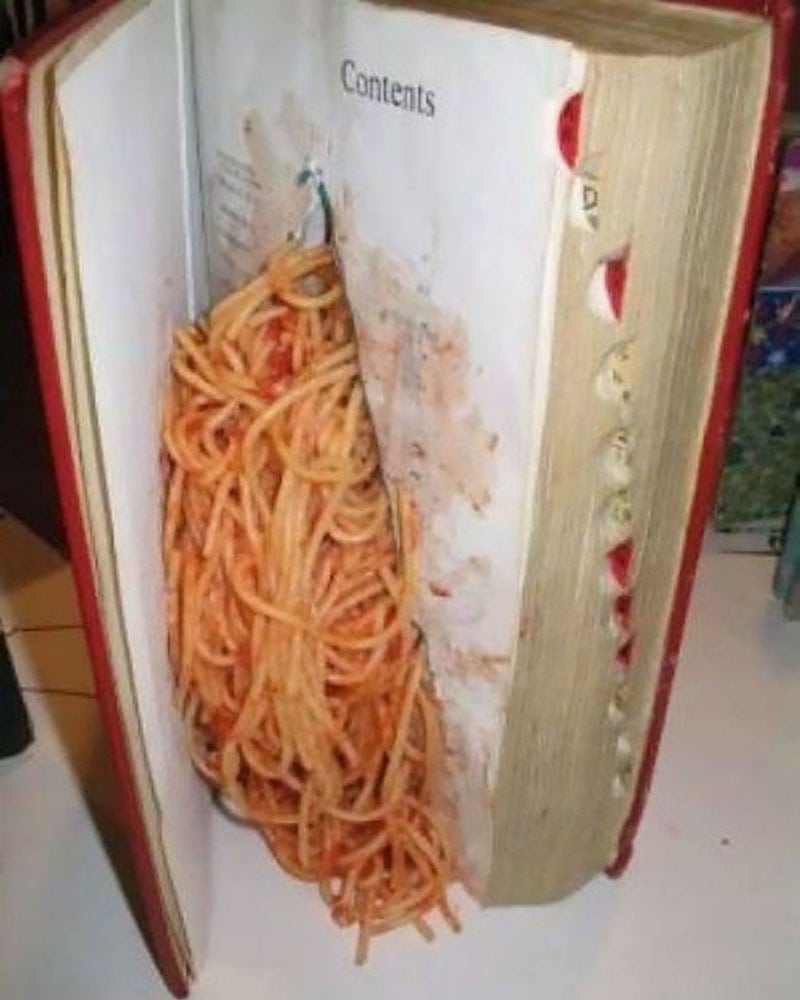 If only we had known this person, who's teaching his way of sneaking food into the study room – cutting up a hole in your book and filling it with nice, fresh spaghetti.
The perfect crime
They say there's no such thing as "the perfect crime," but whoever posted this sign on a pole, believes they have found a major loophole in how the world works. They key for obtaining a lot of money fast and getting away with it? IHOP.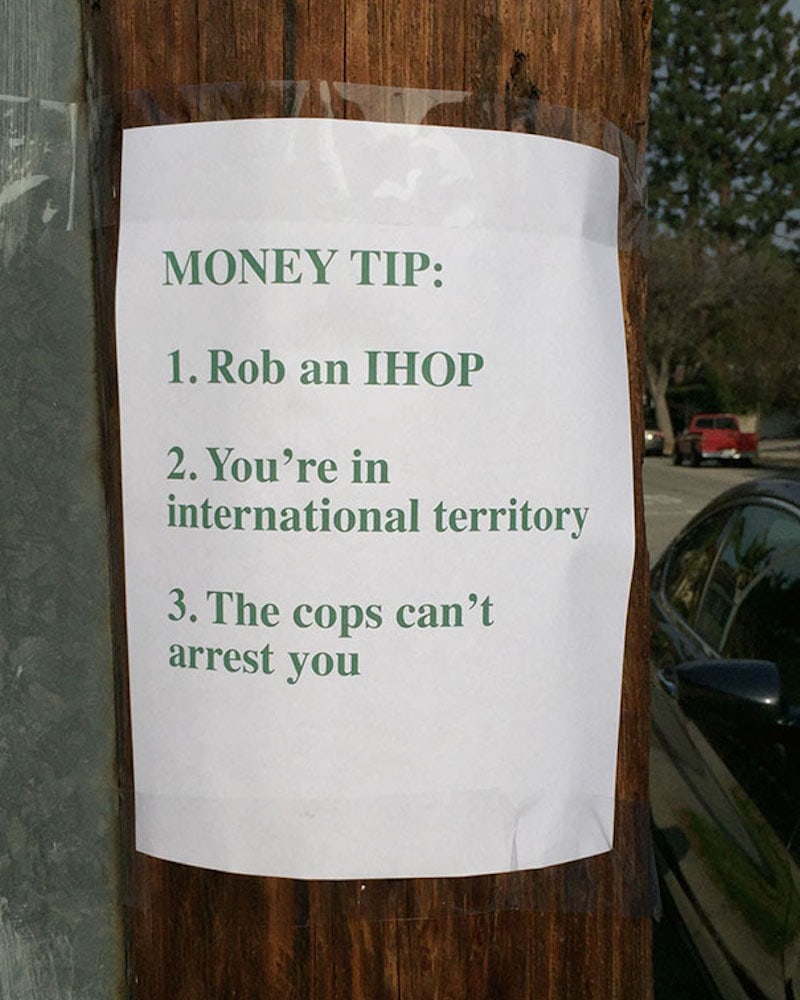 According to this person's logic, you can rob an IHOP and suffer no consequences, because you'd be in international territory. Sure, the second you stepped outside the restaurant the cops would get you, but you can live inside forever, since you'd certainly have access to food and beverages.
Homemade snack
Parents will identify with the dilemma of wanting to send their kids to school with a tasty snack, but not wanting to give them store-bought candy, but then again not having time to make something from scratch at home.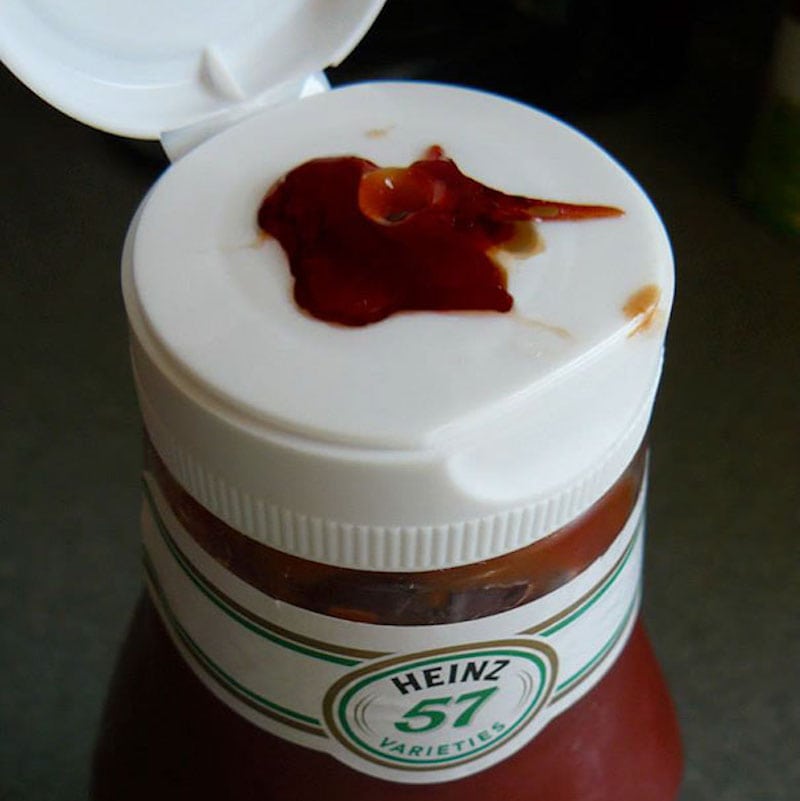 This dad came up with the solution – he says we just need to collect the gummy gasket that forms around the ketchup dispenser, and give them to the kids as a homemade snack. We wonder how his kids liked it.
Putting Oscar to work
If your cat sleeps all day and only worries about getting food at the right time and eventually begging for treats, this advice is for you. This person was tired of their kitty's freeloading attitude, and decided to make some changes around the house.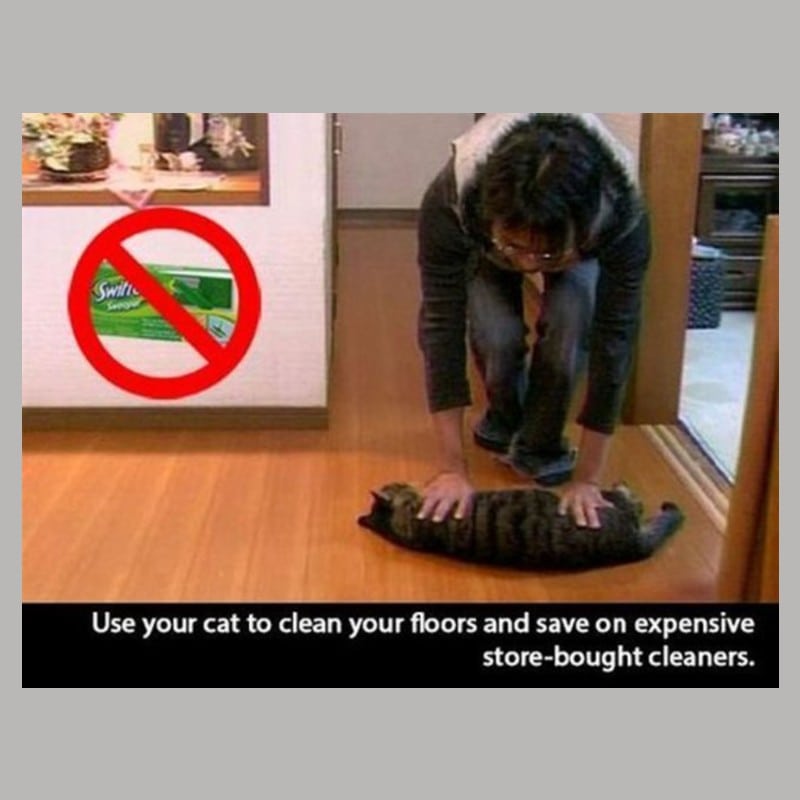 Oscar wouldn't actually grab a broom and sweep the living room, so his human started using him to clean the floor. It gives the cat a sense of purpose, and it also saves on those expensive wipes, too.
An important smartphone hack
Smartphones make our lives so much easier, but their compact size is not ideal to everyone. Those tiny icons and letters can be quite difficult to see, which is why this person is advising people to magnify their phone's screen by sticking it in water.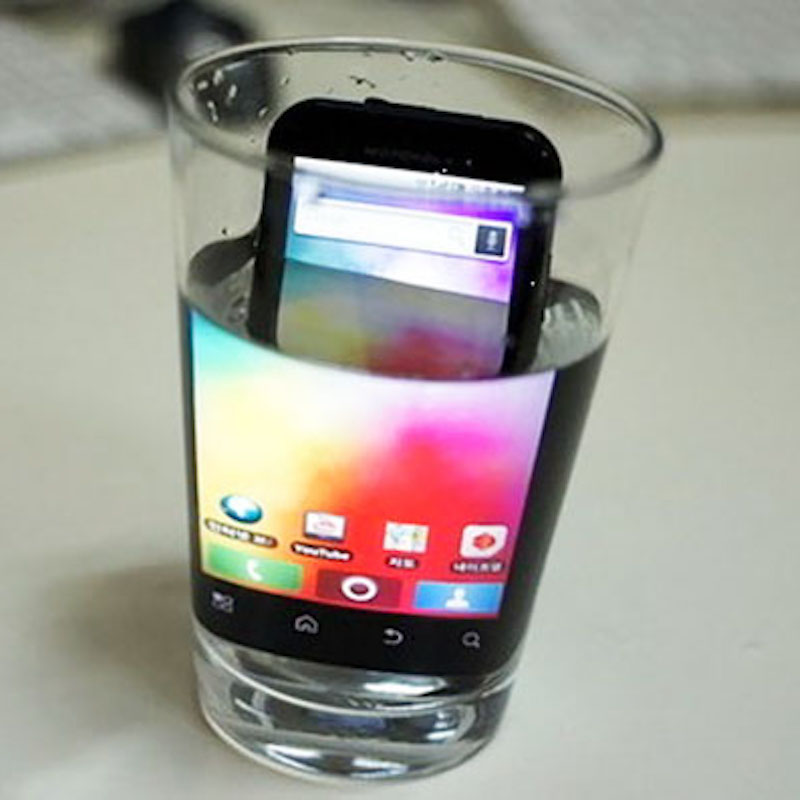 This is the type of hack that can be done even with phones that are not waterproof – but in this case, we have to admit it can only be done once (you know, because the phone would break. Don't put your phone in water).
Optimizing bathroom breaks
In times of economic crisis, companies will often downsize their teams and expect each of the few remaining people to work harder than ever before. If you are also an employee struggling to keep up with your office's unrealistic expectations, this person has some advice for you.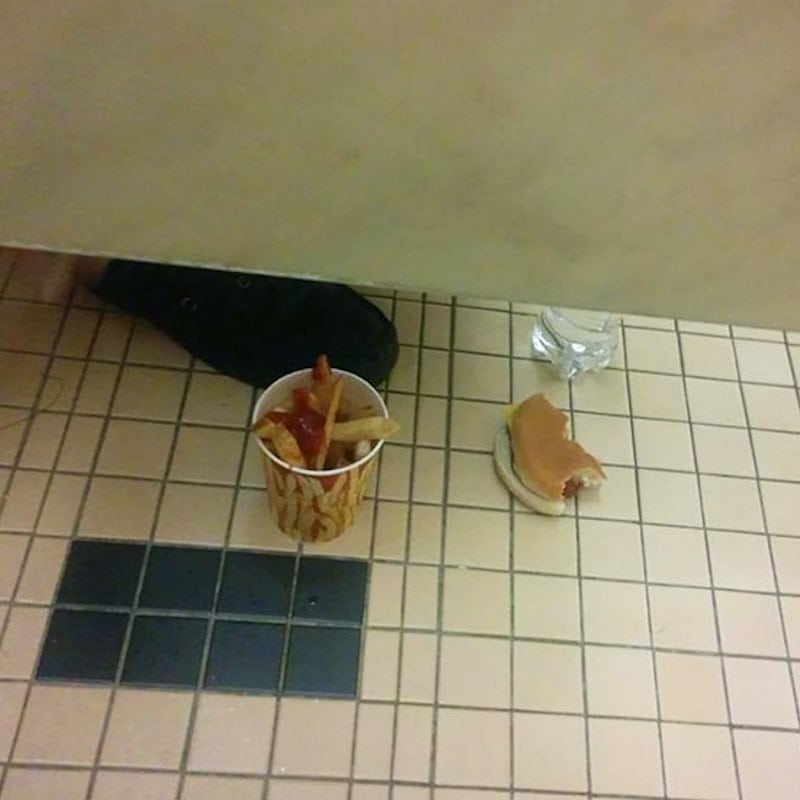 You can always optimize your bathroom breaks by merging them with lunch breaks. Because anyways, it's all about time efficiency, and not at all about employee wellness, right?