Unfortunately for us, even if we are the biggest homebodies on the planet, we are eventually forced into the outside world. What's worse is that no matter where you need to go, the ugly truth is that you may have to go to the bathroom. And these are the most significant offenses against nature that never should have happened.
[post_page_title]Let's avoid landing our foot in the toilet, shall we? [/post_page_title]
Now we're unsure why this person thought playing leapfrog over the toilet into the tub was a good idea, but it's not. You could break a leg or worse. Even if you manage to squeeze around the door, you still have to avoid slamming yourself into the sink. The sink is almost directly over the toilet, so you'll have to be careful. For this bathroom, the trouble isn't over there. It could be a trip to the hospital just to take a shower. Make sure you dry your feet off first with this bathroom mishap.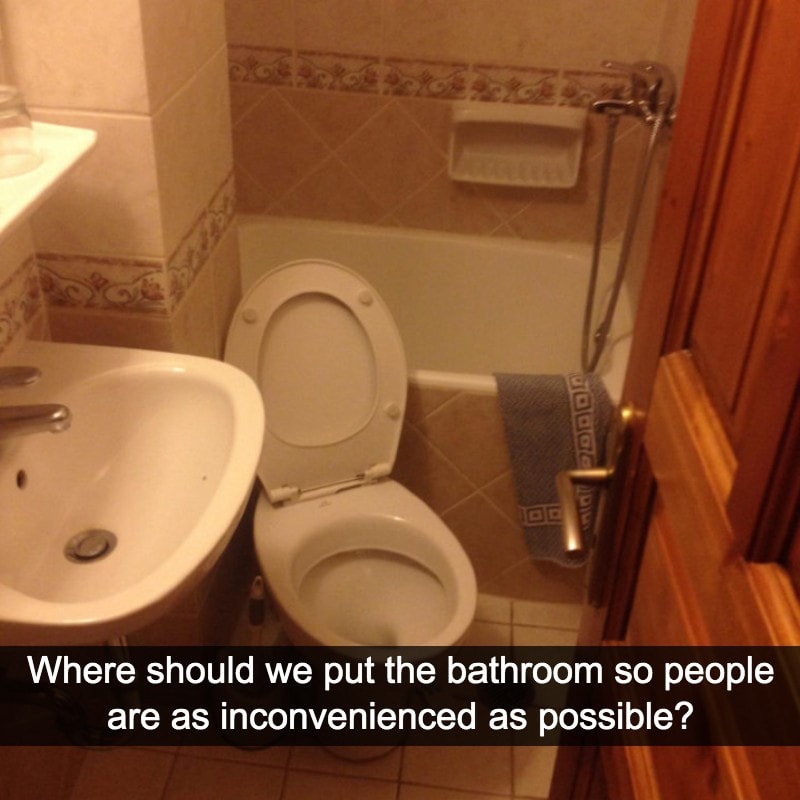 Pages:
Page

1
,
Page

2
,
Page

3
,
Page

4
,
Page

5
,
Page

6
,
Page

7
,
Page

8
,
Page

9
,
Page

10
,
Page

11
,
Page

12
,
Page

13
,
Page

14
,
Page

15
,
Page

16
,
Page

17
,
Page

18
,
Page

19
,
Page

20
,
Page

21
,
Page

22
,
Page

23
,
Page

24
,
Page

25
,
Page

26
,
Page

27
,
Page

28
,
Page

29
,
Page

30
,
Page

31
,
Page

32
,
Page

33
,
Page

34
,
Page

35
,
Page

36
,
Page

37
,
Page

38
,
Page

39
,
Page

40
,
Page

41
,
Page

42